How to use a "Column Helper" for conditional formatting
If you are wanting to add a new rule to your report through the Conditional formatting function where you are wanting to compare 2 columns, and the drop-down box below doesn't fit your criteria. Then add a "Helper Formula column" would be your best bet.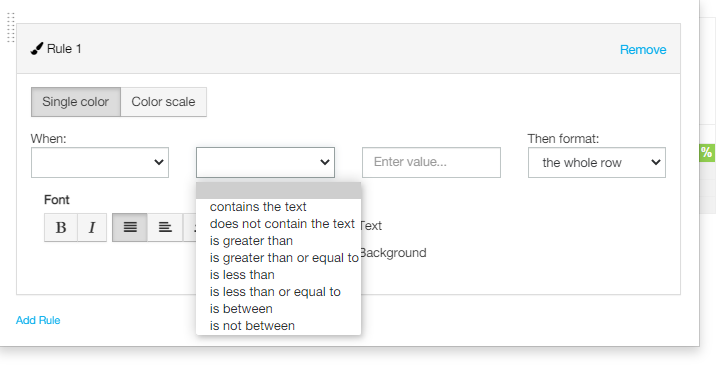 1. For example,
If "Quantity on hand" less than "Min Stock Level" (separate column), fill in red.
2. Add a formal column in the report, which I have named Rule. (

)The below IF formula can be used for any sorts of comparisons -( the below say If "Quantity on hand" is smaller than "Min Stock Level" then insert Y otherwise make it N)
3.Then you can add a rule, show below.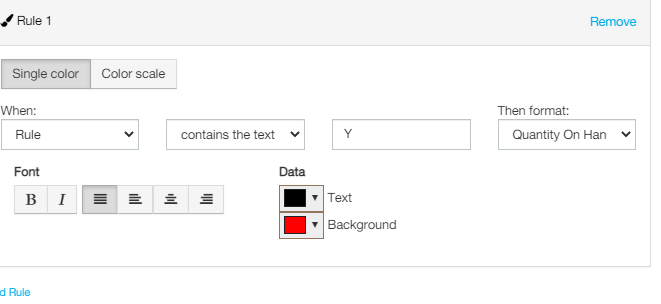 Related Articles

How to Add a Formula Column to a Report

Created by: Geraldene Sibi de la Torre Modified on: Mon, 12 Aug, 2019 at 3:16 PM Creating a custom calculation is basic functionality included in the Wink Reports Report Designer which can be easily applied by adding a formula column. Follow these ...

How to display a duration column as hours

Created by: Johann Du Toit Modified on: Tue, 20 Aug, 2019 at 10:52 AM In Wink Reports duration values are formatted as "days:hours:minutes". For example "1:6:30" is 1 day, 6 hours and 30 minutes. Often you would rather have this value as just the ...

How to decide when to use Value Source or Excel formulas?

Created by: Johann Du Toit Modified on: Fri, 14 Feb, 2020 at 9:41 AM Warning! This is a confusing subject, but please bear with us. If you've done some report designs and created formula columns, then you would be familiar with "Value Source" or ...

How to use the Wink Reports Email Schedule

Created by: Andrei Gromek Modified on: Tue, 8 Nov, 2016 at 11:01 AM Outline Wink Reports allows for organisations to have reports emailed to nominated users on a pre-determined schedule. Follow these steps to set up a new Email Schedule. Select ...

Designing Your First Report

Created by: Gavin Hodge Modified on: Tue, 18 Sep, 2018 at 2:06 PM This tutorial will take you step-by-step through creating a spreadsheet report using the Wink Reports designer tool. It assumes you have already logged in, created an organisation, and ...